Wardenhale: Shops & Inns
Download: Wardenhale Shops
"Wardenhale, the city with a thousand names. City of Shadows. CIty of Trade, City of Justice. Wardenhale is like every city, and yet like no other"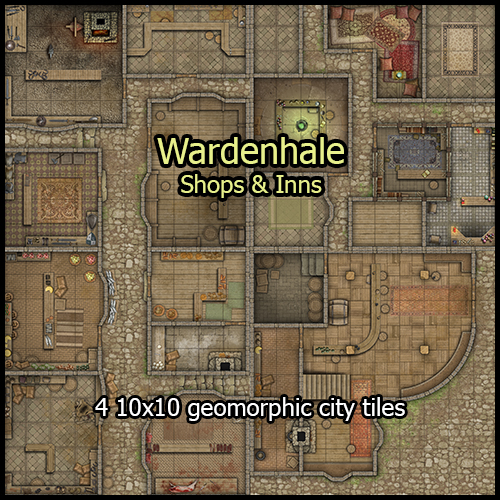 Wardenhale Shops & Inns is a printable dungeon floorplan compatible with any RPG/Dungeon-Crawl game. It can be used as a standalone gameboard, or combined with any same-scale tileset.
Wardenhale Shops & Inns is a geomorphic set, comprising 4 10×10 square battlemaps (and one smaller one) which can be arranged in multiple layouts.  The set features 4 distinctive shopping districts:
Cheapmonger Street: A busy street with a general store, a grocer, a butcher and a baker
Little Chemyk Lane: Home of the cleverest residents of Wardenhale, the district includes an Alchemist, a Clairvoyant, a bookseller and a general arcane shop.
Armoury Yard: The metalsmith district, including a blacksmith, armourer, goldsmith, and the Old Iron Tavern
The Goose & Gutter A popular 2 storey Inn, with large tap room, store room, kitchen, and accommodation upstairs.
Also included is a set of 300dpi full size jpgs, for poster printing or VTT, in both gridded and non-gridded versions. (n.b. gridless version only available as full jpeg)