Wardenhale: Docks
"Wardenhale, the city with a thousand names. City of Shadows. CIty of Trade, City of Justice. Wardenhale is like every city, and yet like no other"

Wardenhale Docks is a printable dungeon floorplan compatible with any RPG/Dungeon-Crawl game. It can be used as a standalone gameboard, or combined with any same-scale tileset.
Wardenhale Shops & Inns is a geomorphic set, comprising 11 10×10 square battlemaps which can be arranged in multiple layouts.  The set features 6 unique tiles; 5 of which are also provided with an alternate version showing the tide out.
The Mermaid's Tale: A small dockside tavern, serving grog to crews that have shoreleave.
Dock Corner: A small section of dockside, strewn with cargo
Dockside Warehouses: Two warehouses situated beside the water, used for storing cargo
Dockside Pier: A short pier that reaches into the water, and steps down to the water
Harbour Master Office: Situated at the end of a long pier, the Harbour Master watches who enters the harbour.
The set can be used on it's own, or joined with any of the 
Wardenhale
 range to make a huge and diverse city.
.
Also included is a set of 300dpi full size jpgs, for poster printing or VTT, in both gridded and non-gridded versions. (n.b. gridless version only available as full jpeg)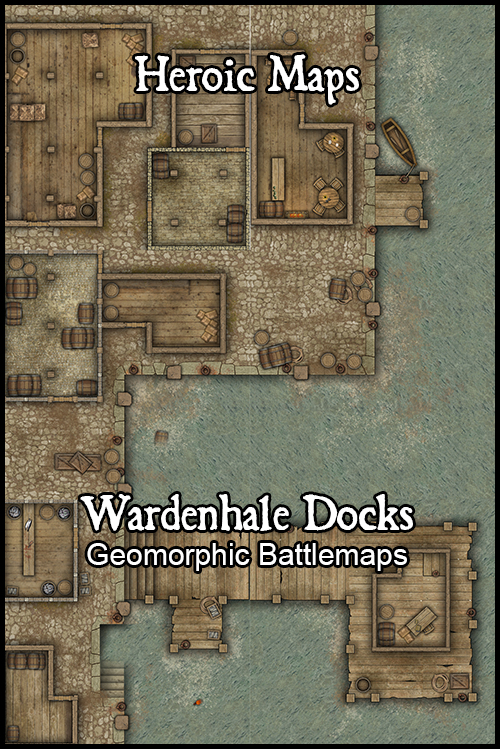 –