The Aelfmynster Ruins
Deep in forest, overgrown with moss and ivy, stand the Aelfmynster Ruins. So named by the locals for it's resemblance to a church, they were unaware of the importance that this Elvish temple once held. Whilst the Eldthruin Empire was at its zenith, the High Temple of Methry'uin was famed throughout the land as a place of worship, but that was long ago. Travellers that come across the ruins may seek shelter from a storm beside the marble walls, little realising the secrets beneath the worn stones.
The Aelfmynster Ruins is a set of printable dungeon floorplans compatible with any RPG/Dungeon-Crawl game. It can be used as a standalone gameboard, or combined with any same-scale tileset.
The Aelfmynster Ruins is a multiple level set, comprising 2 battlemaps (each depicting a different floor)
Ground Floor – A ruined temple or minster made of marble, with grand circular steps and columns. An altar stands above a panel of stone, ornately carved with script.
Crypt – Reached by a set of secret steps that open in front of the altar, the floor of the colonnaded crypt is broken and torn by tree roots that have grown down there. The grand Elf deity statue at the end of the building watches over the crypt as time takes its toll.
Also included is a set of 300dpi full size jpgs, for poster printing or VTT (gridded and gridless)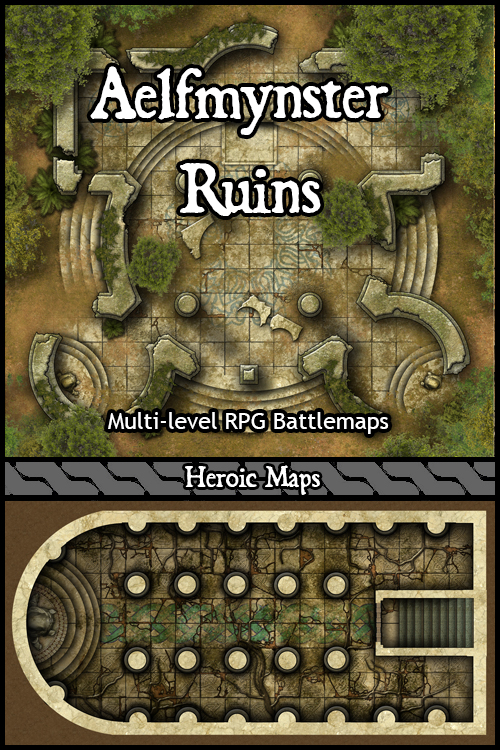 –