Ivyhill Ruins
The tumbledown ivyclad ruins atop Ivyhill are well known to most travellers, who see it from a distance when travelling the road from the coast to the Grey Hills. Occasionally children dare each other to dash up the slope and play in the ruins. Little do they know the truth of Ivyhill Ruins. Little do they know of what happens in the cellars and cave beneath it. Perhaps they would be less happy to venture near it…
Ivyhill Ruins is a set of printable dungeon floorplans compatible with any RPG/Dungeon-Crawl game. It can be used as a standalone gameboard, or combined with any same-scale tileset.
Ivyhill Ruins is a multiple level set, comprising 2 battlemaps (each depicting a different floor)
Ground Floor – A ruined building, covered in ivy, atop a small hill, with cliffs and bluffs above a small stream. Careful observation will reveal a small cave in a cliff, and a trapdoor in the ruins.
Cellar & Cave– Reached by a set of steps beneath a trapdoor, or a hidden cave, beneath the ruins are two small rooms – one a cellar, filled with abandoned barrels and sacks. The other is a cave, the floor marked in honour of some strange god, and a chained statue watches as sacrifices are made.
Also included is a set of 300dpi full size jpgs, for poster printing or VTT (gridded and gridless)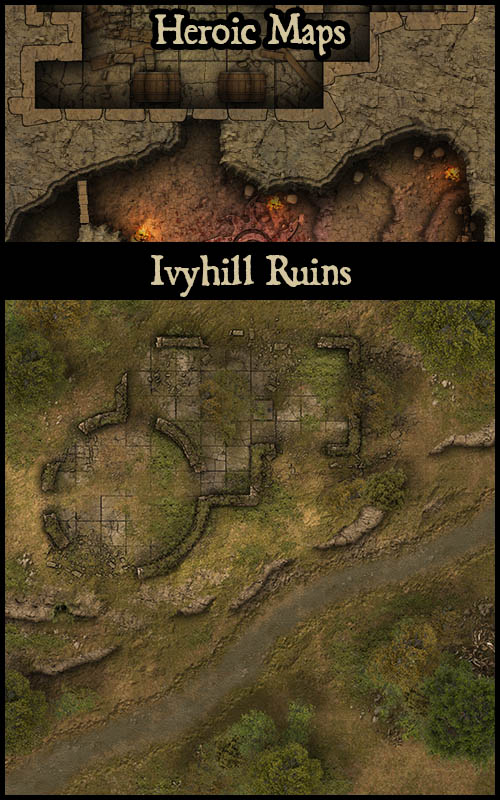 –