The Pyramid of Nekhtou
High Priest Nekhtou was honoured in life as a wise and sagely man. He spent much of his life researching the ancient texts of his forebears, and it was during this study that he discoeved the Scroll of Everlife – a document that described how one could obtain eternal life. It is unknown whether Nekhtou read it before his mysterious and untimely death, but regardless, he was honoured in death and interred within a grand pyramid. His favourite horses were killed and placed within for company in the afterlife, as well as his two loyal servants. His pyramid sits undisturbed, his golden sarcophagus intact, although some say that his real coffin is located in a secret room, and perhaps there also rests the Scroll of Everlife.
The Pyramid of Nekhtou is a set of printable dungeon floorplans compatible with any RPG/Dungeon-Crawl game. It can be used as a standalone gameboard, or combined with any same-scale tileset.
The Pyramid of Nekhtou is a multiple level set, comprising 4 battlemaps (each depicting a different floor)
Ground Floor (20×20) – The lowest level, including some space outside the pyramid. The ground floor features the skeletons of horses, still tethered to a ruined chariot, and two small sarcophagi.
First Floor– Reached by a set of steps, this floor features a large treasure room, as well as a smaller locked room containing a chest.
Second floor: This floor consists of a small burial chamber housing a grand golden sarcophagus. Whether this is the true coffin or not, the roof of this room features a trapdoor leading to a secret and final room.
Third Floor: This small chamber, reached by a trapdoor, houses a single, more humble, sarcophagus.
Also included is a set of 300dpi full size jpgs, for poster printing or VTT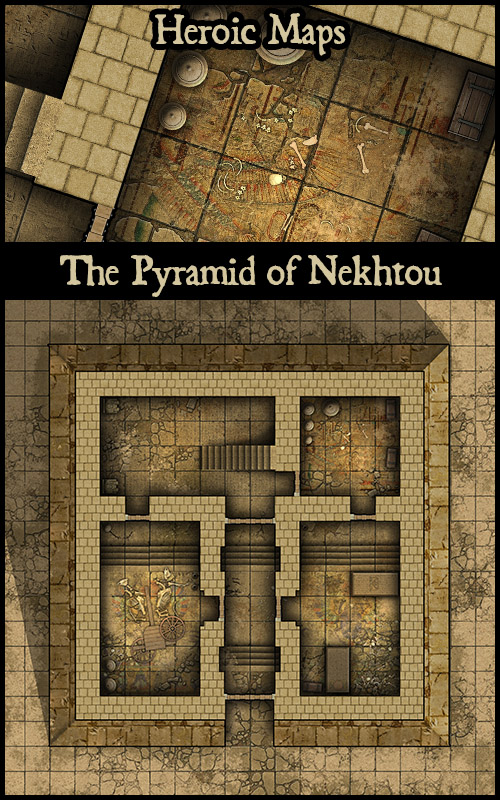 –
–